When you feel you are living in a global village, believe in the ancient Indian adage 'Vasudhaiva Kutumbakam.' And deeply thinks that you are part of an international business family. Your most cherished dream of migrating to a place of your enterprising reveries demands you to pursue it with all your heart.
After all, in a digitally hyper-connected global village, you must live where you feel at home, enabling you to live in your dream destination. If you have that ardent desire itching in your heart from time immemorial. And now, with an investment budget, you think is enough to pursue your entrepreneurial vision.
Then all you need is XIPHIAS Investment Migration. Because XIPHIAS Immigration is a pioneer in Immigration, Residency, Citizenship and Global Resettlement services. XIPHIAS Immigration is the best solution provider for all of your immigration needs.
Nestling the Flock of Migrating Birds 
Moreover, XIPHIAS is India's most awarded and reputed Investment Migration firm, with over 6000 families' successful migration over a decade.
Conceived in the year, 2009, XIPHIAS believes in building a life-long relationship with its clients. According to Varun Singh, the Managing Director (Cert-FIMC), CPD-Certified, their team at XIPHIAS comes up with innovative ideas to help the clients, so they have also trended strong relationships with powerhouses across the globe in countries like Canada, the UK, and Australia, USA, New Zealand etc.
XIPHIAS Immigration has offices located in various prime cities of India and Dubai. ICCRC, Canada and MARA, Australia officially recognize XIPHIAS Immigration. Varun adds, "We have partnered with many attorneys and lawmakers to help us with the process in their respective countries. Our team in XIPHIAS immigration is knowledgeable, easy to communicate with, easily accessible and easygoing."
Also, XIPHIAS has gained the reputation of being one of the best immigration consultancy companies globally. "With a 100% success rate, we believe in re-engineering ourselves and upgrading our process, as is needed, to deliver the best for our clients," mentions Varun.
Making You Realize Your Dreams
XIPHIAS Immigration is the fastest-growing Immigration Company in Asia and has offices in Canada, Australia, Hong Kong, the United Kingdom, the United States, Europe, UAE and India. The only Indian company with thousands of global clients and experience in immigration with legal advisory services for every age group like students, professionals, entrepreneurs, Investors, and corporates.
Varun believes in turning dreams into reality. With over ten years of experience, including Investment Migration, Corporate Visa Services, General Management, Business Operations and Strategy, he has an excellent track record of thousands of customer satisfaction in resettlements. He is the proud recipient of Entrepreneur of the Year 2015. His leadership was recognized as one of the 'Top 5 Most Promising Immigration Consultants in India.' His efforts and services to clients and the company have been awarded as "Fastest Growing Indian Company Excellence Award."
Varun did his leadership Management from IIM Bangalore, Talent Management from XLRI Jamshedpur. He is also a Qualified Fellow Certified Investment Immigration Consultant (IMC), Bachelor of Engineering, MBA from Manipal and IIM Bangalore.
Our Core Principles
Sharing their mission, Varun says it is 'To continuously exceed expectations of their trusted clients and deliver premier, personalized advisory experience that is simple and results in empowering the clients and their families.'
In this regard, Varun's vision for XIPHIAS is 'To be widely recognised as a premier advisory firm by rendering expert counsel to empower clients and their families in the entire process of being a global citizen.'
Revealing their values, he says, "We base our value system on a strong foundation of Integrity, Honesty, Professionalism, Collaboration and Accountability to empower our continuous growth and development."
He furthers that their Boutique of Services is in the following verticals, covering the whole spectrum of Immigration Consulting Services.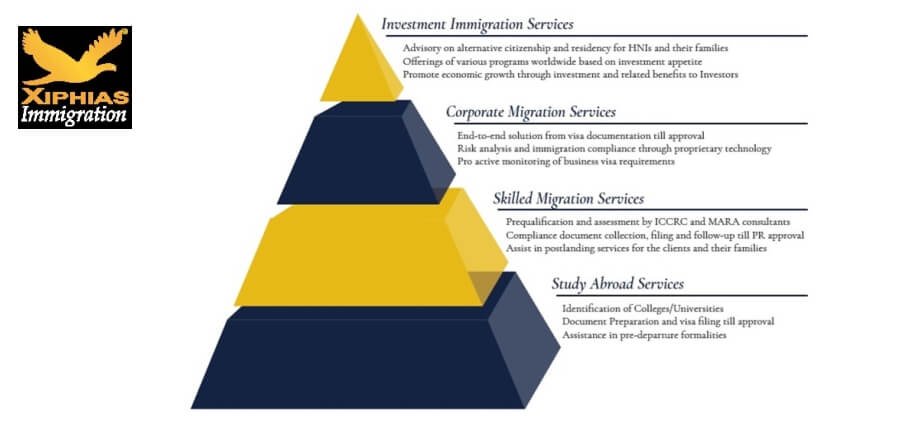 Varun also informs that XIPHIAS Immigration has greatly changed while helping its clients relax on emigration. Guided by him, the team worked on their experiences every year and developed them to include proficient and highly intelligent teams of immigration lawyers and consultants, trained and pledged for the legal, absolute and best shortest way to emigrate. Sharing their most significant USP, Varun says, "We are certified and authorized Immigration consultants, and without initial screening and assessments, we do not signup any cases. Our legal guidance and representation is very strong, and we have not faced any rejections to date."
Your Most Trusted Partner
Further highlighting the immersive benefits of the services and solutions they provide to their clients, Varun reiterates that XIPHIAS Immigration is one of the leading Immigration companies providing solutions to their clients who intend to relocate to other parts of the world. He insists, "We provide personalized hand-holding until the client successfully transits and resettles to their dream destination. Our 'Service with Care and legal guidance has won thousands of families' hearts.'
He ensures that they at XIPHIAS understand and accept the importance of labour requirements satisfaction across the world. "We do not just help nations fill their vacancies but also the individuals who need to migrate looking for a better living and future for themselves and their loved ones."
From its inception, it has been the mission of XIPHIAS Immigration to exceed the expectations of its clients in whatever domain and satisfy their requirements. Under the visionary leadership of Varun, the team provides premier, personalized advice to their clients as needed while also trying to simplify the whole process, thus empowering the clients and their families.
He states, "We believe in becoming the backbone of our clients while trying to help them with the immigration policies."
XIPHIAS Immigration believes in helping and guiding individuals to become Global citizens who think globally but act locally. Many individuals looking for a change in life and relocating to a different part of the world feel left out due to a lack of knowledge about the proceedings.
Honestly, You Can Look Through Us
XIPHIAS team believe in reducing this dilemma for their clients by providing them with expert counsel to empower them and their families and thus help them bridge the gap between their dreams and ambitions.
"Our team at XIPHIAS Immigration are equipped with the right value systems towards our resolve to empower our continuous growth and development. We have thus grown to be active social, economic and cultural contributors to the society and nation, irrespective of its location," says Varun.
With their ethics in place, XIPHIAS Immigration is growing from strength to strength while helping people, companies, and organizations grow and develop. With their efficient, smart consultants, they have been thus far able to guide and support individuals, investors, and corporates, among others, with their immigration needs. "Be it the UK, USA, Canada, Australia, New Zealand, Hong Kong or any country, we have successfully helped people, companies and corporates with their immigration under any scheme possible, and as we continue doing so, we have built a rapport of being one of the most dependable immigration company," shares Varun.
Our Code of Conduct
To build their strength, Varun says they have continuously partnered and collaborated with the right kind of solicitors and lawyers around the globe as necessary. They have also partnered with those who can provide lucrative and transparent investment programs. "We have partnered with many land developers across the globe to provide end-to-end solutions for those who look for cross-border investments," he adds.
With this strong team backing it, XIPHIAS Immigrations is a One-Stop-Solution for
Investors are looking for cross-border real estate investment.
Entrepreneurs/businesspeople are looking to invest in existing businesses or start-ups overseas.
Corporate Mobility Services.
Skilled professionals and workers.
Students want to grow their knowledge and build their careers.
With their surmounting experience, immigration skills, and technological resources, Varun and Team XIPHIAS aim to nullify their clients' anxiety in the areas they are expertise. Their stance to help their clients at the macro and micro level illustrates their long-lasting client relationships. Driven by a team of attorneys specializing in employment, business laws, litigation and diplomatic relations, XIPHIAS Immigration is a multi-speciality immigration service firm that brings an extremely distinctive perspective to its valued client relationships.
Varun assures, "We follow the guidelines, and we conduct free Pre-Departures orientation to all our clients before they travel with complete resettlement guide including kids schooling, pet relocations, company setup etc. Our registered immigration consultants comply with all the Code of Conduct of various government regulatory bodies to uphold our professional ethics and protect our clients."
Always Available to You
As an experienced leader, Varun feels that technological integration into business processes is necessary. He informs, "We are the first Immigration company in India who built in-house CRM and with over a decade of service for more than 80000 clients who are just one email away, which provides them confidence and trust to complete the processing effectively. We are working on our Marketing section where we can reach genuine and valid clients seeking legitimate advisory services."
He also predicts that Technology implementation will increase the response and delivery time. "We expect quicker results and less waiting with complete one-stop solutions."
You Know, You Can Trust Us
In his appeal, he says that 'Entrepreneurs' looking for expansion, better quality of life, better remunerations and seeking better options can reach XIPHIAS to fulfil their dreams to set up their corporation abroad to benefit the family and business through XIPHIAS representation.
In the constantly changing geopolitical scenario, Varun divulges that they will expand to 100 more branches across India and Asia with added team players to cater for the demands of Skilled and Investment clients.
XIPHIAS Investment Migration's Hall of Fame:
'Best Immigration Consultant 2022,' by Times of India.
'Consultant of the Year 2021,' by The Global Hues.
'The 10 Transformational Business Leaders to Look Out 2020,' by The Enterprise World.
'The 10 Most Renowned Brands to Watch in 2020,' by The Leaders Globe.
'The Most Admired Business Consultants of 2020,' by Prime View Magazine.
'Most Outstanding Immigration & Citizenship Sevices Firm of the Year 2019 – India,' by CV's Corporate Magazine-UK.
'The 10 Most Admired Consultant Leaders to Watch in 2019,' by Business Sight Media
'Corporate Excellence Award,' UK 2019.
For the complete list, please visit https://www.xiphiasimmigration.com/about.html. For more information, please write to immigration@xiphias.in.
Clients Testimonials:
*Shashagiri, "I really liked working with the XIPHIAS team. They helped me in every step. The Sales executives and after-sales team were very cooperative. As XIPHIAS, an ICCRC registered firm, has been a great help for me to relish my dreams."
*Priyank Ritwik, "I would like to thank the entire processing team for their support and guidance during the Australia PR process. The team was professional and prompt and always answered our unending questions with great patience.
The processing manager was always available for any query on the phone or message and helped us navigate through the process smoothly. John, Gayathri and their team are very proficient and guided us in case of any direct requests. Overall, it was a great experience, and I wish all the best to the team for greater heights."
*Vatshal Kumar, "I have had wonderful experiences. Through XIPHIAS, I had my Germany Job Seeker processing completed. Even though XIPHIAS has received some unfavourable reviews, the majority of online reviews are favourable, so I decided to give them a try. They work with the utmost professionalism. For work with visas, I suggest XIPHIAS."
For more reviews, please visit https://www.xiphiasimmigration.com/reviews.html.